Spreading the bicycle culture comes also from being able to narrate cycling, to bring it among the people, through its hybridization with what apparently does not relate to it, in the least expected places and ways.
Here is why Clorofilla, together with other realities of the territory such as Oli e-bike systems, Alba 87 gin , Valle Savio Bike Hub  and Cantina Braschi chose to participate as a partner to an initiative organized by the friends from A.S.D. Cicli Neri  with the support from comune di Cesena to bring to town "Cane vecchio sa-und".
But what is "Cane vecchio sa-und"? It is the name of a "cycle-musical" project conceived by Luca Gregorio e Riccardo Magrini, whose voices are well known to bike lovers since together with they are the ones commentating all the main cycling events for Eurosport Italia together with Moreno Moser.
However only a few know know that "Greg" e "Il Magro" are also passionate musicians, who have devoted their voices and their guitar (Luca Gregorio) to the public between anecdotes and cycling curiosities, in an informal and funny question and answer.
Clorofilla was present with its products which have been used to set up the exhibition of bikes and historical jerseys displayed from 6:30 p.m. that has served as the right scenography for the aperitif organized by Chiosko Savelli, while the music has been the protagonist of the dinner held at the adjacent restaurant Piza from 8 p.m. in genuine regional Romagna style that has put together not only cycling and music but also great food and wine.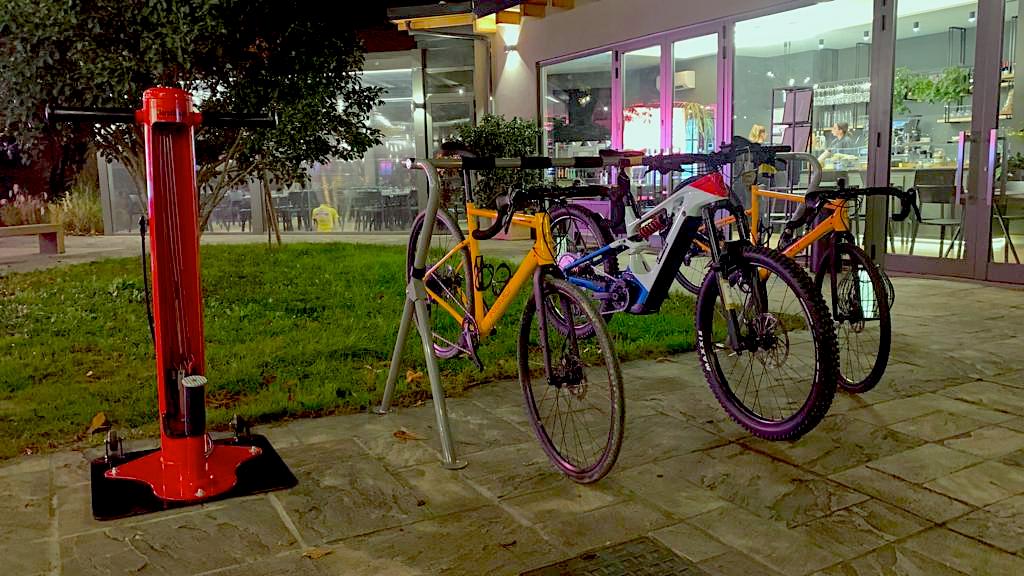 The available places have gone sold out in a few hours from the opening of the reservations, testifying the interest of our more and more bike-friendly territory in  all the initiatives gravitating around the cycling world, especially if they are able to connect different experiences to open the doors even to non-cyclists to attract them in the orbit of the bicycle as an instrument of good health, well-being and fun within everyone's reach.
Just right at the Savelli Gardens a Clorofilla Power station will soon be installed by the municipality of Cesena for the mechanical assistance and the recharge of ebikes at the service of the many urban cyclists passing by this welcoming place in the city every day.